9 augmented reality grocery shopping examples
Blog -
How augmented reality grocery experiences can help boost supermarket and grocery retailers' conversions.
While COVID-19 wreaked havoc on most brick-and-mortar shops, there was one exception: supermarkets remained open as "essential" businesses, with UK shoppers spending £11bn on groceries in November 2020 alone. 
However, not all of these sales were made in-store. That same month, online grocery shopping reached 13.7%, up from 7% before the pandemic. For Christmas slots in 2020, the UK groceries retailer Tesco experienced such demand that it had to place customers in an hours-long online queue.
Although online grocery sales decreased again when restrictions were lifted, the number of people shopping online is currently still higher than before the pandemic. According to Simon Gregg, Senior Vice President of E-commerce for British supermarket chain Asda, they continue to experience "consistent numbers of weekly shoppers at levels more than double those seen in early 2020."
It's unlikely that these new consumer behaviour patterns will revert to "normal"; in 2020, online grocery sales were estimated to more than double its market share by 2025.
For supermarkets that don't want to get left behind, embracing e-commerce is a must. However, grocery and general merchandise stores will need to take advantage of other technologies, like augmented reality (AR) if they want to differentiate their brand and keep ahead of the competition.
At least 32% of customers already use AR when shopping. AR has been proven to lead to better conversions for e-commerce as well as improve engagement for in-person events and activities.
Supermarkets and grocery stores can use augmented reality grocery experiences to make customers' in-person trips to the store more memorable, to improve online shopping conversion rates, and to drive up interest with AR-enhanced marketing campaigns.
Here are just some of the ways they can do so.
Augmented world effects
Activated using the back facing phone camera, world effects overlay 3D elements right in front of shoppers, merging the real world with a digital one.
Wayfinding AR apps
When customers can't find an item in-store, they don't always ask an assistant for help. At least some of them (close to a quarter, according to an older study) will leave the shop and look for the product elsewhere.
One way that supermarkets can overcome this issue is with a wayfinding app. For an example of how this works, look at Marks & Spencer.
Earlier this year, the British multinational retailer released List & Go, an augmented reality grocery shopping app that lets customers enter their shopping list and displays an on-screen path to the products they want to buy.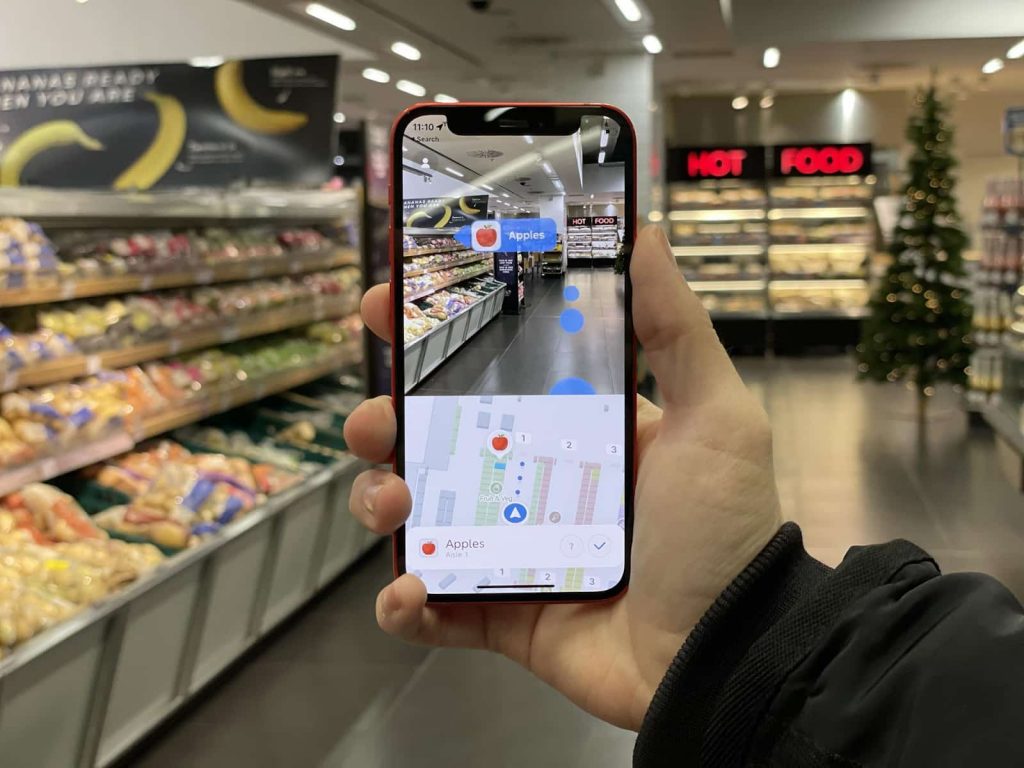 When users hold their phone screen up, they see markers showing where the items are located in the store. When they point their phones to the ground, a compass indicates the direction they should walk to find what they're looking for. 
Augmented reality grocery stock locator apps
Just because a product is not on a shelf doesn't mean that it's not in the store's backroom. Unfortunately for store assistants, finding these items quickly isn't always easy.
For example, it used to take Walmart employees two and a half minutes on average to locate an item in the back room. Since the American multinational retailer introduced Me@Walmart, an AR app for staff, this has shrunk to 42 seconds.
With the app, employees can point their phone at a wall of stock in the backroom, and a green checkmark will appear beside the box that contains the item they're searching.
Image tracking
Through image trackers, supermarkets can add extra layers of content to physical objects or images.
Augmented reality grocery vouchering systems
The brand and groceries wholesaler NISA recently partnered with technology company Jisp to offer its store-owner partners Scan & Save, an augmented reality grocery vouchering system.
Thanks to the system, customers can scan product barcodes when shopping at NISA retailers to visualise promotions and deals through an AR overlay. They can then redeem discount vouchers right from their phone.
Brands that have used Scan & Save have reported increased sales and better shopper engagement. In a short space of time, pilot system users saw more than 82,000 scans and 40,000 taps, with 81% of customers using the system more than once. 
Augmented reality grocery packaging
There is only so much information brands can fit on product labels. For this reason, some companies are turning to AR packaging.
With augmented reality grocery packaging, customers can scan a QR code on a product label to learn more about the item.
For example, while the packaging of Italian sauce brand Francesco Rinaldi may look conventional at first glance, users that scan the front of a jar with their phones can unlock more information about the different sauces.
Supermarkets can use AR packaging experiences to share more information about their own-brand products, like nutritional information and sustainability practices. To see how this could work in practice, take a look at our Wahaca case study. 
Not only can AR packaging give supermarkets more space to talk about their products (and feed into sustainability practices), but it also has excellent storytelling potential to captivate customers. For example, we recently worked with whiskey brand Jack Daniels to create a WebAR experience that transported users to the home of their distillery in Lynchburg, Tennessee.
Product visualisation
Product visualisation makes it possible for customers to see how a product will look in their space or on their bodies. This development is an effective response to consumers' increased demand for AR; two-thirds of people would like to use AR to help them make buying decisions.
3D and AR e-commerce
3D e-commerce isn't new. Tesco has been developing 3D e-commerce offerings as far back as 2012, when it created a 3D virtual store that shoppers could walk through via their smart TVs. Customers could use motion sensor controls to move around the virtual store and buy products by virtually touching them on the shelves.
More recently, other 3D and AR experiences are coming to the forefront, especially those enabling customers to preview items before purchase. For example, UK retailer Breville recently launched an app that lets customers see if kitchen appliances will suit their homes. For example, the app can show them whether the particular item will fit on their countertops or match the room's colour scheme.
The home appliance brand Zephyr has a similar app that allows shoppers to preview kitchen appliances, such as extractor fans and cooker hoods. Customers can preview different hood sizes, styles, and features and take a look at the hood's internal components. 
Supermarkets that sell kitchen appliances and home goods can take inspiration from these examples to launch similar experiences. 
Virtual try-ons
For supermarkets that sell clothes and accessories, virtual try-ons can help boost customer confidence and increase sales.
Although AR clothing is still in the early development stage, plenty of brands have already experimented with AR shoes, AR jewellery, and AR accessories such as hats, bags, and sunglasses.
For example, Tenth Street Hats allows desktop and mobile customers to try on close to 30 hats from its extensive headgear collection. Immediately after the feature was introduced, Tenth Street Hats saw a 33% increase in conversion rates and a 74% boost in engagement.
To make the most of this feature, supermarkets should make virtual try-on experiences accessible to both in-store and online shoppers. 
Immersive advertising
When it comes to advertising, supermarkets tend to invest the vast majority of their money in traditional media campaigns.
However, for grocery stores that want to think outside the box, there is something to be said for immersive marketing campaigns. Nearly 75% of consumers say they would pay more attention to ads with an AR component.
Google Swirl display ads
Introduced in 2019, Google Swirl display ads are like regular ads except that they include 3D elements. Customers viewing these types of ads can interact with the 3D elements within them.
Although not related to grocery stores, the Google Swirl display ad we created for the British automotive company MG Motor is a great example of a Google Swirl display ad.
The ad displayed a new model of a car called the MG Hector, which users could spin around to see from all sides and angles and zoom in and out to get a closer look.
The ad had an 8x higher engagement rate when compared to rich media and 70% viewability. Equally as impressive: customers spent 4,600 engaging with the ad.
Supermarkets can easily follow MG Motor's lead and use Google Swirl to promote new products and deals to users browsing the web.
Billboards
In late 2021, the fashion giant BoohooMAN launched an AR billboard to promote its Black Friday campaign.
The campaign, called "Hack Friday," centred around Robin, a digital hacker who offered unexpected discounts to shoppers after infiltrating the world of fashion. Customers could scan QR codes on billboards and flyers to see Robin come to life and share great offers with customers.
Supermarkets should take this and similar campaigns as inspiration to drum up hype for seasonal campaigns and offers. 
Face filters
Another way supermarkets can make their marketing campaigns more memorable is through fun face filters.
For example, we recently partnered with Selfridges to design a face filter that matched their "Christmas of Dreams" campaign. The campaign used elements from the golden age of Hollywood and musical theatre and involved a game contestant dressed in a Christmas tree outfit.
When users launched the Instagram face filter we created, they saw their faces behind theatrical curtains and the words "Selfridges' Christmas of Dreams". Tapping the curtains opened them up, revealing that the user was also dressed as a Christmas tree, just like the main character in the campaign.
Users could shake their heads to make snowflakes and stars fall all around them, and say something to hear themselves speaking in a high-pitch voice. The face filter was viewed more than 50,000 times just a month after being released. 
Supermarkets may want to consider supplementing their campaigns with similar filters to promote their product lines during the holiday season.
Augmented reality grocery shopping: next steps
From wayfinding apps and AR packaging to 3D product visualisation and immersive advertising, there is no shortage of ways supermarkets can implement AR technology into their offering.
With brands like M&S, Tesco, and Walmart already changing the way we think about grocery shopping, supermarkets of all sizes should consider using AR to make grocery shopping both easier and more engaging. 
Whether you sell only groceries or additional items like clothing and home goods, there is an AR experience for everyone. Ready to get started? Reach out to the team at Poplar Studio today to discuss the various different AR options.