6 augmented reality luxury experiences to delight customers with
Blog -
2020 was a bad year for the luxury industry. As the pandemic hit, the market for luxury items fell from $330.9 billion to $224.8 billion — a 32% decline.
While these are woeful statistics, they're not exactly surprising. COVID-19 shuttered most stores, not just luxury ones. And although many shoppers turned to e-commerce to satisfy their shopping habits, not all items sell as well online as they do in a physical store.
Luxury goods, in particular, have historically been sold mostly in-store. This is, in part, due to the fact that people like to be able to see and touch the more expensive products they're thinking of buying. But the unique experience they get when shopping with luxury retailers in person is not something that can be overlooked either.
Unfortunately, as most luxury retailers found out the hard way, this experience is difficult to replicate online. Despite the fact that online shopping for luxury goods grew by 11% between 2019 and 2020, the reality is that online sales made up just 23% of total sales in this sector.
To make consumers more willing to spend on luxury goods through digital channels, luxury brands need to think outside the box.
This is where augmented reality luxury experiences come in. On the one hand, AR is still relatively new, which means that any brand that incorporates augmented reality luxury experiences will stand out from the crowd. On the other hand, plenty of luxury brands have already used AR technology with great success, whether as a way to provide customers with more interactive experiences or allow shoppers to "try on" items before they buy them.
Like the idea of using AR but not sure where to start? Here are six examples of how luxury brands can take advantage of augmented reality luxury experiences.
1. Social media filters
Almost three-quarters of people think that there are too many ads on social media. Yet most users can't get enough of AR filters — even if they're branded. Fun and engaging, AR filters are a great way to bring users' attention to a company's products without coming off as too promotional.
For some inspiration, take a look at the Haunted Dollhouse AR effect we created in partnership with the L'Oréal-owned cosmetics company NYX Professional Makeup.
When a user launched this Halloween-themed AR effect, a 3D "haunted" dollhouse occupied by five scary dolls, each with a distinct makeup look created by the makeup artist Mimi Choi, appeared on their screens.
Users were able to explore the haunted house and, as they came across each doll, they could "try on" her makeup look using a makeup filter. Excitingly, every look also included unique interactions. For instance, if a user blinked when trying on the "Voodoo Doll" look, their button eye fell out.
While the overall aim of this augmented reality luxury campaign was to get people to buy the NYX Professional Makeup products they needed to recreate the looks at home, we also wanted users who tried out the filter to spread the word about the company. AR filters are great for this because people can take a photo of themselves with the lens and share it with their friends and followers, thus raising awareness of the brand and increasing the ROI on the branded filter.
For brands that want to amplify their filters further, social media platforms like TikTok allow them to pair their effects with Hashtag Challenges. For example, we recently designed the AR effect for Maybelline's #LiftMyMood Hashtag challenge that saw users waking up in a terrible mood but turning their day around after putting on the brand's new gloss titled "Lifter" by pouting at their smartphone cameras.
2. Social commerce AR try-ons
With some social media platforms now allowing users to shop without leaving their apps, AR filters can act as a virtual fitting room. Unsurprisingly, many brands have already tried out this relatively new feature.
On Instagram, cosmetics companies like MAC and Nars and eyewear brands like Ray-Ban are now giving users the opportunity to preview what their products look like on them before they click "Add to Bag."
Over on Snapchat, brands can do the same with "Shoppable AR" lenses. One of the first companies to try this feature was the Italian luxury house Gucci. In 2020, the company came out with two AR shoe try-on Lenses, which let Snapchatters virtually try on four pairs of sneakers and then buy them directly from the app using the "Shop Now" button.
3. Product 3D visualisation
When it comes to buying things like cars or high-end furniture, 2D images are rarely enough for customers to make up their minds if the item is worth their money. To get a feel for these types of products, users need to interact with them, preferably in person. However, when that is not possible (like during a worldwide pandemic or if the product is located in a different country), 3D product visualisation through AR is the second-best option.
Thanks to 3D and AR, buyers can "place" products in their own spaces and inspect them up close and from all angles, almost as if they were viewing the product in real-life.
For example, in 2020, Lamborghini used AR to promote its new car model, Huracán EVO RWD Spyder, even though the entire world was shut down.
When launched, the AR experience, available through Lamborghini's official site, revealed the new model in users' driveways or living rooms. Users could then rotate and expand the car to a 1:1 real-life scale to get a better look at both the exterior and interior as well as take pictures of it.
Lamborghini hopes to eventually apply AR functionality to its entire range.
4. Retail avatars
While face-tracking has evolved to the point where customers can virtually try on products like makeup, sunglasses, and hats, body-tracking is still very much in its infancy. Unfortunately, this means that AR virtual try-ons do not currently successfully extend to clothing. The good news is that retail avatars can help fill this gap in AR technology until improvements to body tracking are made.
A virtual avatar is essentially a digital mannequin of a customer. An online shopper can use the avatar to virtually try on clothes and see how a shirt, dress, or pants would look on them before purchase.
For example, Levi's and Ralph Lauren recently launched a line of virtual clothing for Bitmojis (emoji avatars) on Snapchat corresponding directly to their real-life clothing line. Users can dress up their avatars based on their own style, and if they like the way their virtual selves look, buy the items from the collection via Levis' and Ralph Lauren's websites.
Taking this one step further, the London-based high-end department store Selfridges partnered with Yahoo RYOT Lab and designer Charli Cohen to create Electric/City.
A 360-degree video experience that incorporates elements of some of the hottest fashion capitals of the world, Electric/City offers a unique way for customers to buy physical and digital items. Purchasing physical items automatically unlocks an exclusive Snapchat lens. Customers can wear the garments they buy from the digital collection via a body-tracking Snapchat lens or use them to dress up their digital avatars in AR.
5. Google Swirl 3D display ads
When, in 2014, Digiday asked Joe McCamble, the creator of the first banner ad in 1994, what his kids thought about these types of ads today, his response was, "They don't even notice them. They don't see them, they don't respond to them. I would bet that they've never clicked on a banner ad."
Sadly for marketers, the same can probably be said about most people. The average consumer either ignores display ads, doesn't see them at all (if they use an ad blocker), or finds them annoying.
But that's only true in cases where marketers opt for traditional display ads. For luxury brands that want to stand out, there's a new display ad format that is much more interactive and engaging — Google Swirl 3D.
Unlike "normal" display ads, Google Swirl 3D ads let people engage with the product advertised as if it was right in front of them.
One brand that has already successfully promoted its products through Google Swirl is MG Motor. In 2020, we partnered with the British car manufacturer to create a Google Swirl ad that showcased its new car model, the MG Hector. As a user scrolled down the page the ad was on, the car rotated automatically, and users could further engage with the ad by entering full screen or spinning the model around to get a better look at it from all sides and angles.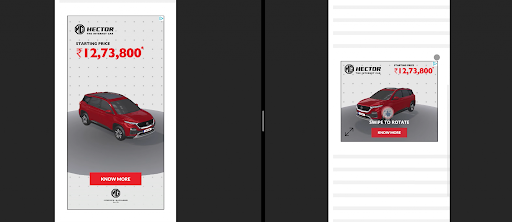 The results for this augmented reality luxury campaign were impressive, to say the least. The interactive ad saw 70% viewability and an 8x higher engagement rate than rich media (all in all, users spent 4,600 hours engaging with the ad).
There's no reason why luxury car brands couldn't use Google Swirl 3D ads to replicate the same results.
6. AR showrooms
Luxury brands are known for their superior customer experience in-store. But with many customers now shopping online, how can luxury retailers recreate this experience digitally? One way to do this is by providing consumers access to an AR showroom.
A virtual replication of the in-store shopping experience, AR showrooms let customers explore a brand's product line as if they were actually in-store and even try on the items that interest them with their smartphone.
The British perfume and scented candle brand Jo Malone, for example, offers its customers a "virtual townhouse experience" through its website. The experience is based on the actual Jo Malone Townhouse and has users clicking between different rooms, like the parlour, drawing room, and garden.
Each room has a 360° video. When users "enter" a room, they automatically trigger a motion, for example flowers springing up all around them. Within each room, there are also a number of Jo Malone products that users can click on to learn more about them and make a purchase.
What's really cool about Jo Malone's CAR showroom is that the experience changes depending on the time of the year, just as the experience at the actual Jo Malone Townhouse would. For example, during the Christmas months, Jo Malone added a "Secret Festive Room" to the virtual townhouse where customers could explore its range of festive products.
Luxury brands can also collaborate with social media platforms to create an AR showroom experience. In 2019, Kohl partnered with Snapchat to allow users who couldn't make it to Kohl's New York holiday pop-up store to see the event space in 3D, explore featured collections, and make purchases by selecting shoppable links.
Last year, Kohl once again came together with Snapchat, this time to create a virtual closet that made it easy for customers to browse Kohl's clothes from home and then buy them without leaving the app.
Augmented reality luxury: next steps
As the examples above demonstrate, there are many ways for brands to create augmented reality luxury experiences.
Regardless of whether you decide to focus on AR filters for social media or AR showrooms (or something else entirely), the fact is that more than half of customers prefer to shop with retailers that offer an AR experience.
By getting in on this trend now, you can create experiences that wow your customers. In the long term, however, having an AR strategy in place is going to be non-negotiable.
Ready to start planning your first augmented reality luxury experience? Get in touch with the team at Poplar Studio today.