7 ways to promote AR experiences with an augmented marketing strategy
Blog -
You've created an amazing AR experience and are excited to share it with the world, but what's next? One of the questions we hear the most from our customers is how they can effectively share their effects to make the most of their augmented marketing strategy. However, a lot of brands are still struggling to bridge the gap between the AR experience and their target audience.
Relying solely on organic reach, although very effective when it comes to social media-based AR, may not be the best or only option for a lot of brands. Promotion strategies will also be dependent on the type of AR experience itself, and the goal of the campaign.
In a previous article we went over the different ways you can share your AR effects across multiple platforms, such as Facebook, Instagram, Snapchat and the web.
In this article we look at some of the best practices and tips to help you make the most of your AR effect, augment its reach and hit your marketing targets.
1. Share it via your usual digital channels
This one seems obvious, and yet so many brands fail to promote their own AR effects! Make sure that you post about your effect via your usual digital channels, just like you would with any other marketing campaign.
This might include social channels such as Twitter, Facebook and Instagram, email channels such as your newsletter and content marketing channels such as your blog.
2. Run a paid ads campaign
Running a paid campaign is the next obvious step. Platforms such as Facebook are great places to share your effects, via post boosting and audience targeting. This can ensure that your effect can reach the right people at the right times in the right platforms.
If you're trying to drive people to a web-based AR experience, Google Ads might be the way to go. Here you can run ads showing a video of your AR effect and encourage users to click through in order to access it.
If you want to learn more about how to share your AR effects on social media and the web, our previous post goes into it in more depth, looking at Facebook, Instagram, Snapchat and WebAR.
An exciting thing about AR-focused advertising is that we are beginning to see platforms such as Facebook support AR ads, whereby users can engage directly with an AR effect within the ad itself. This is opening up a new and very interesting horizon in digital advertising.
3. Get influencers involved
If you have access to influential people related to your campaign, why not ask them to capture the experience and share it with their own social media channels? This will both add credence to your campaign and also maximise its reach exponentially.
For example, we previously worked with the English National Ballet to produce an AR effect around their production of Swan Lake. They then asked Angela Wood, one of the performers, to take a video using the AR effect and post it on her social media channels.
Similarly, we worked with Aladdin the Musical in London to produce a fun portal. The team got Matthew Croke, the star of the show, involved in taking a video using the effect, which was then distributed across their digital channels.
Users are naturally drawn to influencers and, what's more, the desired target audiences are often already followers of the influencers in question. It's a no-brainer.
4. Publish it on print media
When people think about AR, they generally think about social media platforms. But in reality, AR effects can be shared via any channel, including physically. How? With a QR code. (If you're unsure how to create a QR code, our previous article explains it).
Having a QR code means that you can share your AR experience in printed media, such as magazines, newspapers and billboards. By scanning the code with their smartphone, users can instantly access the experience. This also makes it a great option for promoting AR effects at events.
Pro tip: whenever you are sharing a QR code, make sure to also generate a short URL and to include this underneath! That way, users who are unable to scan QR codes will still be able to access the experience.
5. Promote it at an event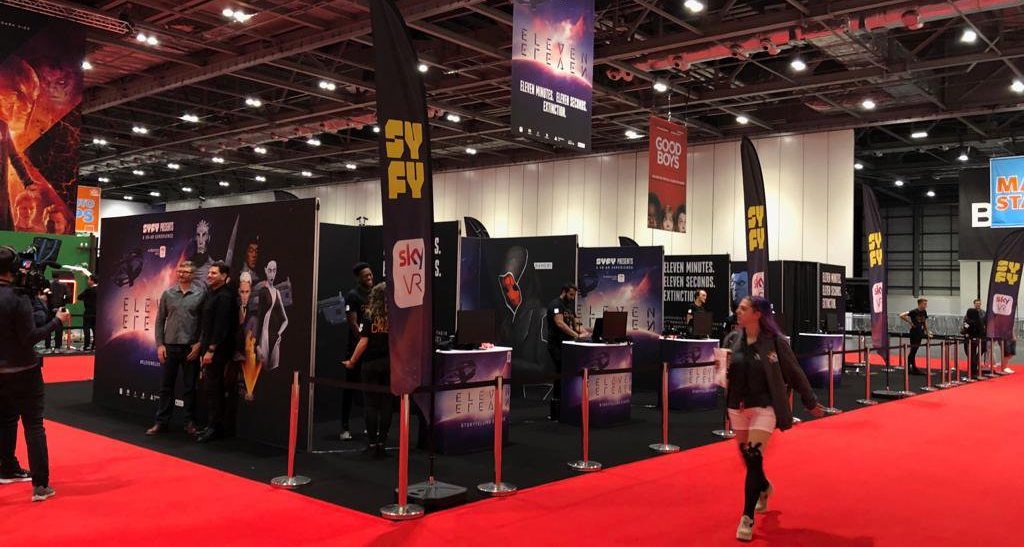 As mentioned earlier, events are great opportunities to share your AR experience. At the same time, why not hold an event specifically to demo the experience?
You can set up a pop-up stall, whether at a shopping centre or at an expo, and directly demo the experience to passersby. This can really help break down the barriers to adoption, by bringing the experience to people who might not already be engaging with AR.
6. Do some PR around it
The great thing about AR is that it's new, innovative and cool. This makes it pretty viral-worthy, particularly when it comes to brands. By promoting your AR experience through PR, you might even drive users who weren't previously aware of your brand.
The most obvious way to do this is through a press release. Here you can talk about how AR fits within your industry and business and what the drive was behind creating the effect. You could even pitch it to AR publications such as NextReality, TechCrunch and The Next Web, to amplify your exposure even further.
Or if you are unable to publish it in other publications, you can simply post it in your own blog, share it on social media and include it in your next newsletter.
7. Run a UGC contest
Finally, User Generated Content contests are particularly effective ways to promote your AR experience because they encourage users to actually capture it and share it with their friends. In other words, if you make the contest prize appealing enough, you might just go viral.
Simply share your contest on social media and ask users to get creative! The most creative use of your AR experience can take the prize.
Final words
There are many ways you can successfully promote your AR experience, and in fact AR is particularly well predisposed to promotion, because of its inherently shareable nature. In this article we covered some of the basic ways you can share your AR content, but there are many more!
The key is to think of your AR experience as an extension of your augmented marketing strategy. Just as you would share other marketing campaigns via the channels outlined above, so should you with AR.