11 must-read augmented reality books
Blog -
Looking to get started with AR, or just interested in learning more? We've compiled a list of 11 essential augmented reality books for creators and enthusiasts which we guarantee will totally change your outlook on AR!
Augmented Human gives a great holistic overview of AR's impact on different industries and cultures through stories, real examples and insights from AR experts. In the book, Dr. Papagiannis explains what the "new wave of reality" is and how AR technology can amplify our human abilities through all five senses, not just sight.
This isn't one of those technical augmented reality books, so we would recommend it as a resource for anyone involved in AR projects or interested in AR as an industry, not just developers and creators.
This is a must-read for aspiring VR and AR creators who want to get started in the industry. It is written by a former Disney, AOL and AG Interactive executive, who now writes about VR, AR, and new media for Forbes.
The book explains every aspect of what Fink refers to as "the metaverse," from terminology to explaining technologies and product reviews. Fun to read and easy to follow, by the end of the book you'll be well-equipped and dying to get started. As a bonus, it's an AR book which you can use alongside a free app to view original animations.
Picnic Comma Lightning isn't strictly a book about AR, but more of a deep dive into modern life in the digital world and how this affects our outlook on reality.
The book explores themes such as the nature of reality and some of the forces that inform how we act, from ethics to neurology.
This book will really make you think about all the ways technology influences how we think and act, which are really interesting and important questions to consider when looking at the future of AR and how it will transform reality.
Based on two years of research and about 400 interviews with technologists and business decision makers, this book gives really valuable viewpoints on the current state of AR and where it could take us in just a few years.
If you're an AR beginner, this book has loads of examples of AR companies and projects to inspire you.
It also has a really handy glossary of key AR terms at the back of the book, which we loved.
Pro tip: if you're an Audible user, this one is available for free!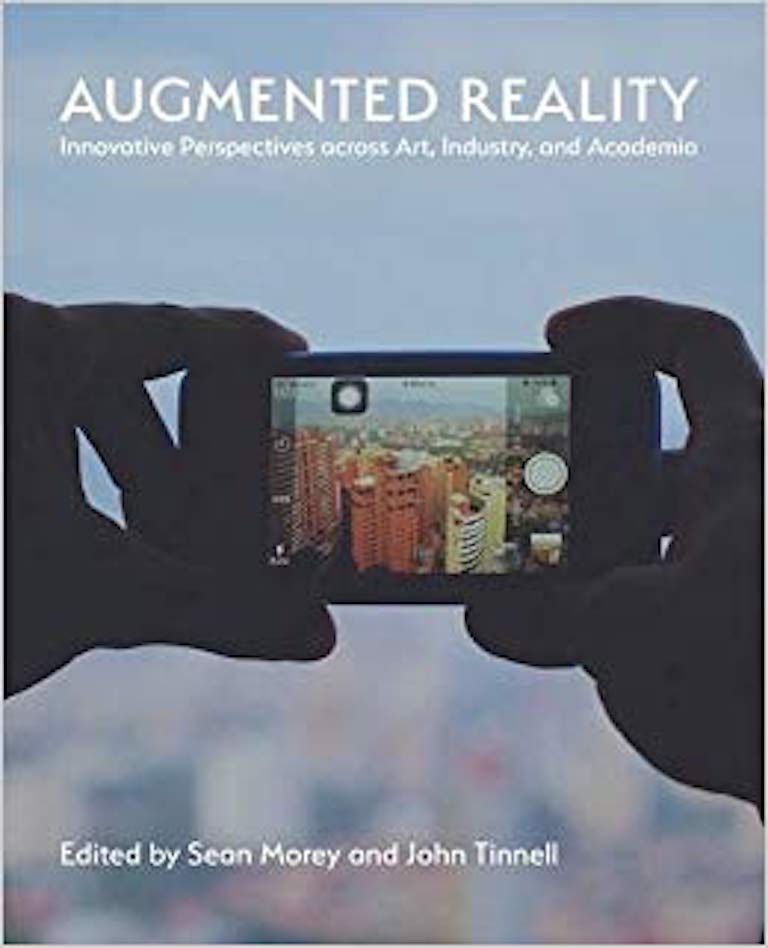 This book breaks away from the very technical perspective that augmented reality books typically focus on. It takes insight from both artistic minds and software developers to provide a unique understanding of the forms of augmented reality.
The book is not spoken solely from one voice, but includes outside interviews, essays, and artworks.
If you are looking for a different area of augmented reality, then this book is good to consider.
This book provides insight from many industries into the world of AR. It details the differences between AR and the other technologies like VR and MR.
It is written as a "guide" to AR to help show the evolution of AR from the beginning to present day.
It is mostly meant to give an intuitive opinion on how the world will be in the future with augmented reality integrated into our everyday lives.
Augmented reality has the ability to introduce "magic" into our everyday lives.
One of the reasons it is proving so disruptive is because it has the opportunity to change not only our surroundings, but also the way that we go about normal tasks.
This book is an effective overview of current trends in the AR tech world and how it is evolving. The advancements in this industry are going to affect everyone's perceptions of reality.
Publications are increasingly making use of AR to get their stories across in a more compelling way.
This book is meant as a guide for industry professionals to utilise AR and VR in their storytelling and to pass on the lessons learned already.
As the book explains, AR and VR can increase engagement among consumers by involving them in the experience in an immersive way. The book also covers a wide range of industries, giving practical tips on how to create powerful stories using mixed reality.
This book recounts the creation of Google Maps, one of the most useful applications in the world.
It shows how the technology has evolved since its beginning and the different elements that have gone into it.
What began as a simple mapping company that was later purchased by Google has ultimately led to the creation of Pokémon GO and the new Harry Potter: Wizards Unite game.
Shown in this book is a behind the scenes view of the development of mapping technology.
This book does exactly what it says on the tin – it looks at how AR experiences can be integrated into marketing campaigns for brands in order to help them engage with their audiences.
The book includes some fantastic case studies on brands who have already begun using AR across a range of industries, as well as the results they got from it.
Useful for creators and not just marketers, it offers a really useful understanding of how AR experiences can be applied across different industries.
Here's some fun fiction to round off the list!
Ready Player One is the story of Wade Watts, who spends most of his days in a virtual world OASIS. When the creator of OASIS dies, Wade sets out to solve his puzzles and inherit the OASIS fortune – a bit like a modern 'Charlie and the Chocolate Factory'!
This book is great for understanding the reasons why people love AR and the escapism of entering a virtual world. There is of course also a movie version of this book, but we prefer the original.
Once you're done with this cult classic, check out Snow Crash, another sci-fi classic where a virtual drug threatens to take over the Metaverse – a cyberspace home to avatars and software daemons, where anything and just about everything goes.
Both of these augmented reality books show you what to expect from the development of VR and AR platforms.
We also recommend trying a location-based VR arcade to get a "real-life" taster! The team checked out Huxley in London and were super impressed.

Have you read any of these books? Or are there any you liked which we left out of the list? Tweet us and let us know or contact us via Facebook, Instagram, or e-mail us at info@poplar.studio.